Der Shop für Musical-Fans und Professionals.
Wir versenden Gänsehaut-Feeling in die ganze Welt.
CAMELOT & BRIGADOON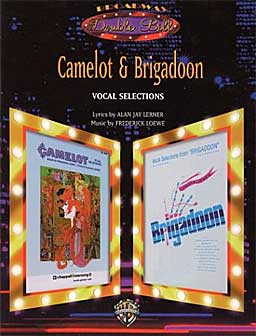 Kundenbewertung: -
Kategorie: Songbuch
UPC/EAN: 9780757900938
ISBN: 0757900933
Seiten: 62
---
Songliste:
CAMELOT:
IF EVER I WOULD LEAVE YOU
CAMELOT
HOW TO HANDLE A WOMAN
THE LUSTY MONTH OF MAY
THE SIMPLE JOYS OF MAIDENHOOD
I LOVED YOU ONCE IN SILENCE
FOLLLOW ME
BRIGADOON:
ALMOST LIKE BEING IN LOVE
BRIGADOON
COME TO ME, BEND TO ME
DOWN ON MACCONNACHY SQUARE
FROM THIS DAY ON
THE HEATHER ON THE HILL
I'LL GO HOME WITH BONNIEK JEAN
JEANNIE'S PACKIN' UP
THE LOVE OF MY LIFE
THERE BUT FOR YOU GO I
WAITIN' FOR MY DEARIE
---
Seiten: 62
gesetzt für: PVG
Sie kennen diesen Artikel?
Sagen Sie uns Ihre Meinung darüber und geben Sie hier Ihre Bewertung ab. Sie helfen dadurch anderen Kunden.