Der Shop für Musical-Fans und Professionals.
Wir versenden Gänsehaut-Feeling in die ganze Welt.
LES MISERABLES Vocal Selections - In Concert Ed.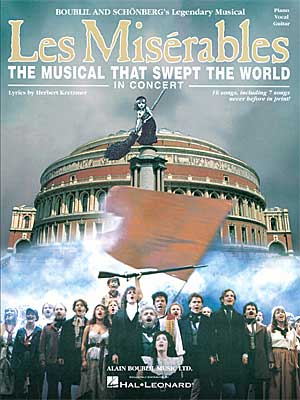 Kundenbewertung:

Kategorie: Songbuch
UPC/EAN: 9780634050039
Seiten: 100
---
Songliste:

A Heart Full Of Love
At The End Of The Day
Bring Him Home
Castle On A Cloud
Come To Me (Fantine's Death)
Do You Hear The People Sing?
Empty Chairs At Empty Tables
I Dreamed A Dream
Little People
Look Down
Lovely Ladies
On My Own
One Day More
Red And Black
The Thenardier Waltz Of Treachery
What Have I Done
---
Seiten: 100
gesetzt für: PVC
Sie kennen diesen Artikel?
Sagen Sie uns Ihre Meinung darüber und geben Sie hier Ihre Bewertung ab. Sie helfen dadurch anderen Kunden.
So denken andere über diesen Artikel:





(07.06.2006) Musicalfan aus Paris schreibt:
supi!