Der Shop für Musical-Fans und Professionals.
Wir versenden Gänsehaut-Feeling in die ganze Welt.
The Great Audition Sourcebook - incl. 4 CDs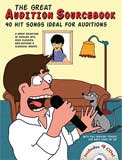 Kundenbewertung: -
Kategorie: Playbacks mit Notenmaterial
UPC/EAN: 9781847727374
ISBN: 9781847727674
Seiten: 248
40 Hit Songs ideal for Auditions - incl. 4 Playback CDs
---
Songliste:

20th Century Boy (T Rex)
Angels (Robbie Williams)
Are You Gonna Go My Way (Lenny Kravitz)
Ave Maria (Charles Gounod)
Brown Sugar (D'Angelo)
Che Faro Senza Euridice (Orfeo) (Christoph Willibald Gluck)
Cold As Ice (Foreigner)
Come What May (Moulin Rouge)
Deh, Vieni Alla Finestra (Don Giovanni) (Mozart)
Dream On (Aerosmith)
Erlkönig Op.26 (Schubert)
Frontin' (Pharrell Williams, Jay-Z)
Hard To Handle (The Black Crowes)
Hey Ya! (OutKast)
Hot In Herre (Nelly)
Is You Is Or Is You Ain't My Baby? (Five Guys Named Moe)
It Was A Lover And His Lass (Thomas Morley)
Kiss (Prince)
La Donna E Mobile (Rigoletto) (Verdi)
Like I Love You (Justin Timberlake)
Maggie May (Rod Stewart)
No Diggity (Blackstreet)
No Matter What (Whistle Down The Wind) (Andrew Lloyd Webber)
O For The Wings Of A Dove (Mendelssohn)
Rebel Yell (Billy Idol)
Reet Petite (Jackie Wilson)
Rock With You (Michael Jackson)
Saturday Night's Alright For Fighting (Elton John)
She's Got That Vibe (R. Kelly)
Shoes Upon The Table (Blood Brothers)
Stuck In The Middle With You (Stealers Wheel)
The Flower Song (Carmen) (Bizet)
The Joker (Steve Miller)
The Music Of The Night (The Phantom Of The Opera)
This Year's Love (David Gray)
Try A Little Tenderness (The Commitments) (Otis Redding)
Una Furtiva Lagrima (L'elisir D' Amore) (Donizetti)
Wiegenlied (Lullaby) (Brahms)
Yeah! (Usher)
Your Song (Moulin Rouge)
---
Seiten: 248
gesetzt für: PVG
Sie kennen diesen Artikel?
Sagen Sie uns Ihre Meinung darüber und geben Sie hier Ihre Bewertung ab. Sie helfen dadurch anderen Kunden.