Der Shop für Musical-Fans und Professionals.
Wir versenden Gänsehaut-Feeling in die ganze Welt.
Songs of Boublil & Schönberg - Men's Edition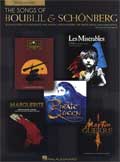 Kundenbewertung: -
Kategorie:
UPC/EAN: 9781423441
ISBN: 9781423441786
Seiten: 128
21 Songs from their Hit Shows
---
Songliste:
LES MISERABLES
A La Volonté Du Peuple (Do You Hear The People Sing?)
Bring Him Home
Do You Hear The People Sing?
Dog Eats Dog
Drink With Me (To Days Gone By)
Empty Chairs At Empty Tables
Javert's Suicide
Stars
Who Am I?
MISS SAIGON
The American Dream
Bui-Doi
If You Want To Die In Bed
Why God Why?
MARTIN GUERRE
I Will Make You Proud
I'm Martin Guerre
Live With Somebody You Love
THE PIRATE QUEEN
MARGUERITE
Intoxication
Waiting
What's Left Of Love?
---
Seiten: 128
gesetzt für: PVC
Sie kennen diesen Artikel?
Sagen Sie uns Ihre Meinung darüber und geben Sie hier Ihre Bewertung ab. Sie helfen dadurch anderen Kunden.