Der Shop für Musical-Fans und Professionals.
Wir versenden Gänsehaut-Feeling in die ganze Welt.
NEXT TO NORMAL Vocal Selections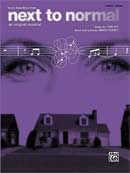 Kundenbewertung: -
Kategorie: Songbuch
UPC/EAN: 9780739064474
ISBN: 0739064479
Seiten: 168
An original musical
Musik: Tom Kitt
Text: Brian Yorkey
Buch: Brian Yorkey
---
Songliste:

Prelude
Just Another Day
Everything Else
Perfect For You
I Miss the Mountains
He's Not There
You Don't Know
I Am the One
Superboy and the Invisible Girl
I'm Alive
I Dreamed a Dance
There's a World
I've Been
Didn't I See This Movie?
A Light in the Dark
Hey #1
Aftershocks
Hey #2
How Could I Ever Forget?
Why Stay? / A Promise
The Break
Maybe (Next to Normal)
Hey #3 / Perfect for You )Reprise)
So Anyway
Light
---
Seiten: 168
gesetzt für: PVC
Sie kennen diesen Artikel?
Sagen Sie uns Ihre Meinung darüber und geben Sie hier Ihre Bewertung ab. Sie helfen dadurch anderen Kunden.