Der Shop für Musical-Fans und Professionals.
Wir versenden Gänsehaut-Feeling in die ganze Welt.
The William Finn Songbook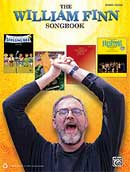 Kundenbewertung: -
Kategorie: Klavierauszug
UPC/EAN: 9780739065310
ISBN: 0739065319
Seiten: 216

nicht mehr lieferbar
23 songs hand-picked by the composer himself
Musik & Text: William Finn
---
Songliste:
ELEGIES
Anytime (I Am There)
Infinite Joy
Only One

FALSETTOS
I'm Breaking Down
Unlikely Lovers
What More Can I Say

IN TROUSERS
Love Me For What I Am
Set Those Sails

A NEW BRAIN
And They're Off
Change
I'd Rather Be Sailing

ROMANCE IN HARD TIMES
All Fall Down
That's Enough For Me

THE ROYAL FAMILY OF BROADWAY
I Have Found
Stupid Things I Won't Do

SONGS OF INNOCENCE AND EXPERIENCE
I Went Fishing With My Dad
Innocence and Experience
Republicans
You're Even Better Than You Think You Are

THE 25th ANNUAL PUTNAM COUNTY SPELLING BEE
The I Love You Song
I Speak Six Languages
I'm Not That Smart
My Unfortunate Erection
---
Seiten: 216
gesetzt für: PVC
Sie kennen diesen Artikel?
Sagen Sie uns Ihre Meinung darüber und geben Sie hier Ihre Bewertung ab. Sie helfen dadurch anderen Kunden.
Unsere Kundenbewertungen werden ausschließlich über unser Kundenbewertungsformular generiert und repräsentieren nur die persönliche Meinung unserer Kunden bzw. der User unseres Shops. Einträge werden vor Veröffentlichung von unserer Redaktion geprüft und unabhängig ihrer Wertung veröffentlicht. Ob der User der Bewertung das Produkt wirklich gekauft hat, oder im Besitz davon ist, kann nicht in jedem Fall geprüft werden. Es gibt bei uns weder gekaufte noch in Auftrag gegebene Kundenbewertungen.