Der Shop für Musical-Fans und Professionals.
Wir versenden Gänsehaut-Feeling in die ganze Welt.
Musicals! Directing School and Community Theatre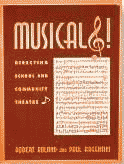 Kundenbewertung:

Kategorie: Bücher
Sprache:

englisch
UPC/EAN: 9780810833234
ISBN: 0810833239
Seiten: 202
---
Seiten: 202
Autor: Robert Boland, Paul Argentini
Musicals! is an illustrated sourcebook that provides comprehensive, step-by-step guidance for musical directors, teachers, administrators students and actors.Boladn and Argentini emphasize the director's role in the three main building blocks for mounting a musical show: preparation, production, and performance. They discuss in particular the preparation of the director's prompt book, an invaluable tool that facilitates the entire process of rehearsals, staging and blocking.

Musicals! takes the reader through selecting which show to perform, obtaining the script (and the associated legal and licensing responsibilities involved), holding auditions, casting, developing a rehearsal schedule, choreographing musical numbers, preparing publicity and running the box office. It also includes a checklist for opening night and instructions for the final strike as well as discussion of lightning, costumes, safety precautions, and advice on creating different kinds of sets.

Boland and Argentini conclude with a selected bibliography of books and magazines, a glossary of theatre terms, and a list of recommended sources for scenic drops, costumes, and lightning equipment. Musicals! is a key resource for anyone involved in school and community musical theatre.
---
Sie kennen diesen Artikel?
Sagen Sie uns Ihre Meinung darüber und geben Sie hier Ihre Bewertung ab. Sie helfen dadurch anderen Kunden.
So denken andere über diesen Artikel:





(10.12.2006) Musicalfan aus Stuttgart schreibt:
Jedes Jahr bringe ich ein Schulmusical auf die Bühne. Dieses Buch ist seit langem eine Art "Bibel" für mich geworden. Ich kann es wirklich nur empfehlen.