Der Shop für Musical-Fans und Professionals.
Wir versenden Gänsehaut-Feeling in die ganze Welt.
Music on Film: WEST SIDE STORY - Monush, B.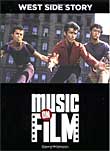 Kundenbewertung: -
Kategorie: Bücher
Sprache:

englisch
ISBN: 884088499990
Seiten: 172
---
Seiten: 172
Autor: Barry Monush
Buchformat: Paperback
On the brink of celebrating its 50th anniversary, West Side Story remains one of the classic motion pictures of the musical genre. A joint collaboration between directors Jerome Robbins and Robert Wise, it won 10 Academy Awards and produced the longest-charting soundtrack album of all time. This book explores not only the stage origins of the piece, but the incredible impact of the movie version and how it became a touchstone for all subsequent generations interested in dance on film and in great filmmaking in general.
---
Sie kennen diesen Artikel?
Sagen Sie uns Ihre Meinung darüber und geben Sie hier Ihre Bewertung ab. Sie helfen dadurch anderen Kunden.