Der Shop für Musical-Fans und Professionals.
Solos For Kids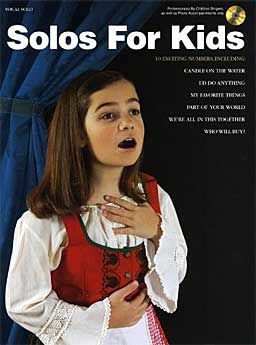 Kundenbewertung: -
Kategorie: Playbacks mit Notenmaterial
UPC/EAN: 9781617804564
Seiten: 48
10 exciting numbers for children singers, incl. Playback-CD
---
Songliste:

Candle On the Water (PETE'S DRAGON)
Getting To Know You (KING AND I)
High Hopes (A HOLE IN THE HEAD)
I#d Do Anything (OLIVER)
My Favorite Things (SOUND OF MUSIC)
Part Of Your World (LITTLE MERMAID)
The Rainbow Connection (MUPPET MOVIE)
Stepsister's Lament (CINDERELLA)
We're All In This Together (HIGH SCHOOL MUSICAL)
Who Will Buy? (OLIVER)
---
Seiten: 48
gesetzt für: PVC
In addition to full performances and piano accompaniments playable on both your CD player and computer, this enhanced CD also includes tempo adjustment software for CD-ROM computer use only.
---
Sie kennen diesen Artikel?
Sagen Sie uns Ihre Meinung darüber und geben Sie hier Ihre Bewertung ab. Sie helfen dadurch anderen Kunden.
Unsere Kundenbewertungen werden ausschließlich über unser Kundenbewertungsformular generiert und repräsentieren nur die persönliche Meinung unserer Kunden bzw. der User unseres Shops. Einträge werden vor Veröffentlichung von unserer Redaktion geprüft und unabhängig ihrer Wertung veröffentlicht. Ob der User der Bewertung das Produkt wirklich gekauft hat, oder im Besitz davon ist, kann nicht in jedem Fall geprüft werden. Es gibt bei uns weder gekaufte noch in Auftrag gegebene Kundenbewertungen.