Der Shop für Musical-Fans und Professionals.
A GENTLEMAN'S GUIDE ... (2014 Orig. Broadway Cast) - CD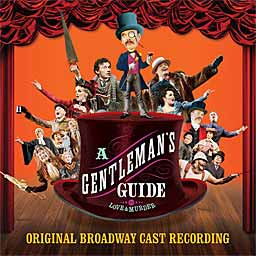 Kundenbewertung: -
Kategorie: Cast Recording, Musical CD
Sprache:

englisch
UPC/EAN: 0791558448221
Label: Ghostlight
Original Broadway Cast Recording
Musik: Steve Lutvak, Robert L. Freedman
Text: Robert L. Freedman
Buch: Robert L. Freedman
Künstler:
Jefferson Mays, Bryce Pinkham, Lisa O'Hare, Lauren Worsham, Pamela Rob, Joanna Glushak, Eddie Korbich, Jeff Kready, Mark Ledbetter, Jane Carr
---
Songliste:

(A GENTLEMAN'S GUIDE TO LOVE AND MURDER)
Overture / Prologue: A Warning To The Audience
You're A D'Ysquith
I Don't Know What I'd Do
Foolish To Think
A Warning To Monty
I Don't Understand The Poor
Foolish To Think (Reprise)
Poison In My Pocket
Poor Monty
Better With A Man
Inside Out
Lady Hyacinth Abroad
The Last One You'd Expect
Why Are All The D'Ysquiths Dying
Why Are All The D'Ysquiths Dying (Reprise)
Sibella
I've Decided To Marry You
Final Warning
Poison In My Pocket (Reprise)
Looking Down The Barrel Of A Gun
Stop! Wait! What?!
That Horrible Woman
Finale
---
Sie kennen diesen Artikel?
Sagen Sie uns Ihre Meinung darüber und geben Sie hier Ihre Bewertung ab. Sie helfen dadurch anderen Kunden.
Unsere Kundenbewertungen werden ausschließlich über unser Kundenbewertungsformular generiert und repräsentieren nur die persönliche Meinung unserer Kunden bzw. der User unseres Shops. Einträge werden vor Veröffentlichung von unserer Redaktion geprüft und unabhängig ihrer Wertung veröffentlicht. Ob der User der Bewertung das Produkt wirklich gekauft hat, oder im Besitz davon ist, kann nicht in jedem Fall geprüft werden. Es gibt bei uns weder gekaufte noch in Auftrag gegebene Kundenbewertungen.