Der Shop für Musical-Fans und Professionals.
Wir versenden Gänsehaut-Feeling in die ganze Welt.
MISS SAIGON (2014 New London Cast) Live - Deluxe - 2CD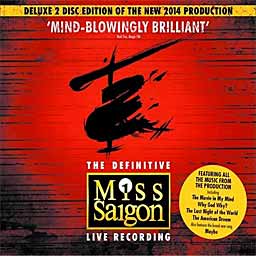 Kundenbewertung: -
Kategorie: Cast Recording, Musical CD
Sprache:

englisch
UPC/EAN: 0602547023018
The Definitive Recording - Live
Musik: Claude-Michel Schönberg
Text: Alain Boublil, Richard Maltby jr.
zus. Texte: Michael Mahler
---
Songliste:

Overture / Backstage Dreamland
The Heat Is On In Saigon
The Movie In My Mind
The Transaction
The Dance
Why God Why?
This Money's Yours
Sun And Moon
Asking For Leave
The Deal
The Wedding Ceremony
Thuy's Intervention
Last Night Of The World
The Morning Of The Dragon
I Still Believe
Coo-Coo Princess
You Will Not Touch Him
If You Want To Die In Bed
Kim & Engineer
I'd Give My Life For You
CD2:
Entr'acte
Bui Doi
The Revelation
What A Waste
Too Much For One Heart
Kim's Nightmare
Sun And Moon (Reprise)
Room 317
Maybe *
The Confrontation
Paper Dragons
The American Dream
Little God Of My Heart
* new song
---
Sie kennen diesen Artikel?
Sagen Sie uns Ihre Meinung darüber und geben Sie hier Ihre Bewertung ab. Sie helfen dadurch anderen Kunden.
Unsere Kundenbewertungen werden ausschließlich über unser Kundenbewertungsformular generiert und repräsentieren nur die persönliche Meinung unserer Kunden bzw. der User unseres Shops. Einträge werden vor Veröffentlichung von unserer Redaktion geprüft und unabhängig ihrer Wertung veröffentlicht. Ob der User der Bewertung das Produkt wirklich gekauft hat, oder im Besitz davon ist, kann nicht in jedem Fall geprüft werden. Es gibt bei uns weder gekaufte noch in Auftrag gegebene Kundenbewertungen.