Der Shop für Musical-Fans und Professionals.
Songs of Charles Strouse - Songbook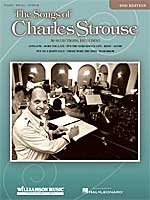 Kundenbewertung: -
Kategorie: Songbuch
UPC/EAN: 9780634061769
ISBN: 0634061763
Seiten: 224
2nd Edition
Musik: Charles Strouse
---
Songliste:

A Broadway Musical
A Dancin' Man
A Lot Of Livin' To Do
Applause
Baby, You Can Count On Me
Blame It On The Summer Night
Born Too Late
But Alive
Bye Bye Birdie
Children Of The Wind
Da-Da, Da-Da, Da, Da!
Dance A Little Closer
Follow The Way Of The Lord
For A Song To Be Beautiful
I Can't Stop Dancin'
I Don't Need Anything But You
I Never Want To See You Again
I Want To Be With You
It Would Have Been Wonderful
It's The Hard-Knock Life
It's Time For You
Kids!
Let's Make Music Together
Let's Settle Down
Look On The Bright Side
Look Who's Alone Now
Lorna's Here
Love
Married Life
Maybe
My Star
N.Y.C.
No Man Is Worth It
Once Upon A Time
One Boy (Girl)
Pals
Put On A Happy Face
Saturday Night Girl
Smashing, New York
Times
There's Always One You Can't Forget
There's Never Been Anything Like Us
This Is The Life
Those Were The Days
Tomorrow
Wanting
What Am I Gonna Do Without You?
Whatever Time There Is
When You Smile
You've Got Possibilities
---
Seiten: 224
gesetzt für: PVC
Sie kennen diesen Artikel?
Sagen Sie uns Ihre Meinung darüber und geben Sie hier Ihre Bewertung ab. Sie helfen dadurch anderen Kunden.
Unsere Kundenbewertungen werden ausschließlich über unser Kundenbewertungsformular generiert und repräsentieren nur die persönliche Meinung unserer Kunden bzw. der User unseres Shops. Einträge werden vor Veröffentlichung von unserer Redaktion geprüft und unabhängig ihrer Wertung veröffentlicht. Ob der User der Bewertung das Produkt wirklich gekauft hat, oder im Besitz davon ist, kann nicht in jedem Fall geprüft werden. Es gibt bei uns weder gekaufte noch in Auftrag gegebene Kundenbewertungen.