Der Shop für Musical-Fans und Professionals.
Wir versenden Gänsehaut-Feeling in die ganze Welt.
Andrew Lloyd Webber For Singers - Women's Edition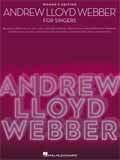 Kundenbewertung: -
Kategorie: Songbuch
UPC/EAN: 9781423436737
ISBN: 884088223694
Seiten: 158
30 songs by the famous composer
Musik: Andrew Lloyd Webber
---
Songliste:

All I Ask Of You
Amigos Para Siempre (Friends For Life)
Another Suitcase In Another Hall
Anything But Lonely
As If We Never Said Goodbye
Buenos Aires
Capped Teeth And Caesar Salad
Don't Cry For Me Argentina
Gus: The Theatre Cat
I Don't Know How To Love Him
Jacob And Sons
Learn To Be Lonely
Let Me Finish
Make Up My Heart
Memory
Next Time You Fall In Love
Nothing Like You've Ever Known
Surrender
Take That Look Off Your Face
Tell Me On A Sunday
The Last Man In My Life
The Perfect Year
There Is More To Love
Think Of Me
Too Much In Love To Care
Unexpected Song
Whistle Down The Wind
Wishing You Were Somehow Here Again
With One Look
You Must Love Me
---
Seiten: 158
Sie kennen diesen Artikel?
Sagen Sie uns Ihre Meinung darüber und geben Sie hier Ihre Bewertung ab. Sie helfen dadurch anderen Kunden.