Der Shop für Musical-Fans und Professionals.
Wir versenden Gänsehaut-Feeling in die ganze Welt.
MAMMA MIA (Movie) Vocal Selection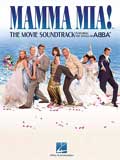 Kundenbewertung: -
Kategorie: Songbuch
UPC/EAN: 9781849380294
The Movie Soundtrack
---
Songliste:

Dancing Queen
Does Your Mother Know
Gimme! Gimme! Gimme! (A Man After Midnight)
Honey Honey
I Have A Dream
Lay All Your Love On Me
Mamma Mia
Money, Money, Money
Our Last Summer
S.O.S.
Slipping Through My Fingers
Super Trouper
Take A Chance On Me
The Name Of The Game
The Winner Takes It All
Voulez Vous
When All Is Said And Done
---

gesetzt für: PVC
Sie kennen diesen Artikel?
Sagen Sie uns Ihre Meinung darüber und geben Sie hier Ihre Bewertung ab. Sie helfen dadurch anderen Kunden.
Unsere Kundenbewertungen werden ausschließlich über unser Kundenbewertungsformular generiert und repräsentieren nur die persönliche Meinung unserer Kunden bzw. der User unseres Shops. Einträge werden vor Veröffentlichung von unserer Redaktion geprüft und unabhängig ihrer Wertung veröffentlicht. Ob der User der Bewertung das Produkt wirklich gekauft hat, oder im Besitz davon ist, kann nicht in jedem Fall geprüft werden. Es gibt bei uns weder gekaufte noch in Auftrag gegebene Kundenbewertungen.