Der Shop für Musical-Fans und Professionals.
Broadway Singer's Edition: WICKED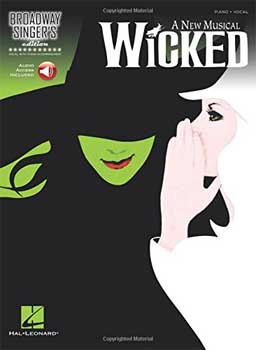 Kundenbewertung: -
Kategorie: Playbacks mit Notenmaterial
UPC/EAN: 9781476814247
Seiten: 80
incl. Piano Accompaniment Playback CD
---
Songliste:

Dancing Through Life
Defying Gravity
For Good
I Couldn't Be Happier
I'm Not That Girl
No Good Deed
Popular
What Is This Feeling?
The Wizard And I
Wonderful
---
Seiten: 80
gesetzt für: PVC
Songs in the Broadway Singer's Edition: include the vocal line and lyrics paired with faithful reductions of the orchestral accompaniments. The songs are presented in their original keys with Piano accompaniments carefully crafted for playability. The CD includes performances of these Piano accompaniments. The disc works in any CD player and is enhanced for computer use, allowing adjustment of both tempo and pitch.
---
Sie kennen diesen Artikel?
Sagen Sie uns Ihre Meinung darüber und geben Sie hier Ihre Bewertung ab. Sie helfen dadurch anderen Kunden.
Unsere Kundenbewertungen werden ausschließlich über unser Kundenbewertungsformular generiert und repräsentieren nur die persönliche Meinung unserer Kunden bzw. der User unseres Shops. Einträge werden vor Veröffentlichung von unserer Redaktion geprüft und unabhängig ihrer Wertung veröffentlicht. Ob der User der Bewertung das Produkt wirklich gekauft hat, oder im Besitz davon ist, kann nicht in jedem Fall geprüft werden. Es gibt bei uns weder gekaufte noch in Auftrag gegebene Kundenbewertungen.