Der Shop für Musical-Fans und Professionals.
WICKED (2003 Orig. Broadway Cast) Deluxe Ed. - 2CD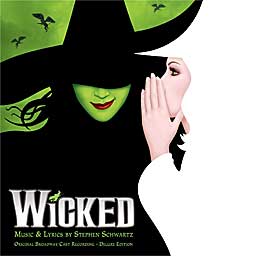 Kundenbewertung: -
Kategorie: Cast Recording, Musical CD
Sprache:

englisch
UPC/EAN: 600753467220
2CD Deluxe Package plus Special Bonus Recordings
Musik & Text: Stephen Schwartz
Künstler:
Kristin Chenoweth, Idina Menzel, Joel Grey, Carole Shelley ...
---
Songliste:
CD1:
No One Mourns The Wicked
Dear Old Shiz
The Wizard And I
What Is This Feeling?
Something Bad
Dancing Through Life
Popular
I'm Not That Girl
One Short Day
A Sentimental Man
Defying Gravity
Thank Goodness
Wonderful
I'm Not That Girl (Reprise)
As Long As You're Mine
No Good Deed
March Of The Witch Hunters
For Good
Finale

CD2: (Special Bonus Recordings)
For Good (LeAnn Rimes, Delta Goodrem)
I'm Not That Girl (Kerry Ellis)
Making Good (Stephanie J. Block & Stephen Schwartz at the piano)

WICKED - DIE HEXEN VON OZ (German Stuttgart Cast)
Solang ich dich hab (As Long As You're Mine)
Gutes tun (No Good Deed)

WICKED - UIKEDDO (Japanese Cast)
Jinnsei Wo Odori-Akase (Dancing Through Life)
Popyuraa (Popular)

Bonus Tracks:
Defying Gravity (Idina Menzel)
Popular Song (Mika, Ariana Grande)
---
Sie kennen diesen Artikel?
Sagen Sie uns Ihre Meinung darüber und geben Sie hier Ihre Bewertung ab. Sie helfen dadurch anderen Kunden.
Unsere Kundenbewertungen werden ausschließlich über unser Kundenbewertungsformular generiert und repräsentieren nur die persönliche Meinung unserer Kunden bzw. der User unseres Shops. Einträge werden vor Veröffentlichung von unserer Redaktion geprüft und unabhängig ihrer Wertung veröffentlicht. Ob der User der Bewertung das Produkt wirklich gekauft hat, oder im Besitz davon ist, kann nicht in jedem Fall geprüft werden. Es gibt bei uns weder gekaufte noch in Auftrag gegebene Kundenbewertungen.