Der Shop für Musical-Fans und Professionals.
Wir versenden Gänsehaut-Feeling in die ganze Welt.
Guide to Producing Plays and Musicals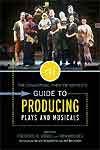 Kundenbewertung: -
Kategorie: Bücher
Sprache:

englisch
UPC/EAN: 9781557836526
ISBN: 1557836523
Seiten: 404
The Commercial Theater Institute Guide...
---
Seiten: 404
Autor: Frederic B. Vogel, Ben Hodges
For more than 25 years, the Commercial Theater Institute has sponsored an annual intensive program in New York for individuals interested in producing or investing in the theatre that attracts people from all over the world. The top working theatre professionals offer hard, factual information to those interested in producing for Broadway, Off-Broadway, Off-Off-Broadway, anywhere in North America, as well as in the United Kingdom.

The Commercial Theater Institute Guide to Producing Plays and Musicals now collects for the first time the cream of the crop of that advice, from the noted theatre professionals who participate in the program, in their own words. Interviews, contributions, and a resource directory are included from 30 theatre professionals who have won a total of 45 Tony Awards. Agents, directors, production designers, general managers, fundraisers, marketing directors, producers, and theatrical attorneys all offer invaluable advice in a book that will be the definitive resource in its field.
---
Sie kennen diesen Artikel?
Sagen Sie uns Ihre Meinung darüber und geben Sie hier Ihre Bewertung ab. Sie helfen dadurch anderen Kunden.