Der Shop für Musical-Fans und Professionals.
WIZARD OF OZ (1939 Orig. Soundtrack) - CD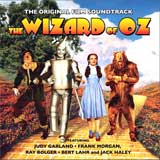 Kundenbewertung: -
Kategorie: Cast Recording, Musical CD
Sprache:

englisch
UPC/EAN: 5050457075521
MGM Filmmusical
Musik: Harold Arlen
Text: E. Y. Harburg
Künstler:
Judy Garland, Ray Bolger, Bert Lahr, Jack Haley, Tyler Brook, Ralph Sudam, Bob Watson...
---
Songliste:

Main Title
Over The Rainbow
Cyclone (Extended Version)
Come Out, Come Out...
It Really Was No Miracle
We Thank You Very Sweetly
Ding-Dong! The Witch Is Dead
As Mayor Of The Munchkin City
As Coroner, I Must Aver
Ding-Dong! The Witch Is Dead (Reprise)
The Lullaby League
The Lollipop Guild
We Welcome You To Munchkinland
Follow The Yellow Brick Road / You're Off To See TheWizard
If I Only Had A Brain (Extended Version)
We're Off To See The Wizard (Duo)
If I Only Had A Heart (Extended Version)
We're Off To See The Wizard (Trio)
If I Only Had The Nerve
We're Off To See The Wizard (Quartet)
Optimistic Voices
The Merry Old Land Of Oz
If I Were King Of The Forest (Extended Version)
The Jitterbug (Outtake)
Ding-Dong! Emerald City (Outtake)
Delirious Escape (Extended Version) / Delirious Escape Continued / End Title
---
Sie kennen diesen Artikel?
Sagen Sie uns Ihre Meinung darüber und geben Sie hier Ihre Bewertung ab. Sie helfen dadurch anderen Kunden.
Unsere Kundenbewertungen werden ausschließlich über unser Kundenbewertungsformular generiert und repräsentieren nur die persönliche Meinung unserer Kunden bzw. der User unseres Shops. Einträge werden vor Veröffentlichung von unserer Redaktion geprüft und unabhängig ihrer Wertung veröffentlicht. Ob der User der Bewertung das Produkt wirklich gekauft hat, oder im Besitz davon ist, kann nicht in jedem Fall geprüft werden. Es gibt bei uns weder gekaufte noch in Auftrag gegebene Kundenbewertungen.