Der Shop für Musical-Fans und Professionals.
Wir versenden Gänsehaut-Feeling in die ganze Welt.
WIZARD OF OZ (1939 Orig. Soundtrack) - CD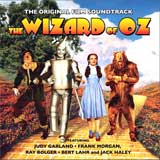 Kundenbewertung: -
Kategorie: Cast Recording, Musical CD
Sprache:

englisch
UPC/EAN: 5050457075521
Unser Preis:
9,99 €
Sonderpreis: 6,99 €
inkl. MWSt zzgl. Versandkosten
Sie sparen 30,03%
(Lieferung nur solange Vorrat reicht!)

MGM Filmmusical
Musik: Harold Arlen
Text: E. Y. Harburg
Künstler:
Judy Garland, Ray Bolger, Bert Lahr, Jack Haley, Tyler Brook, Ralph Sudam, Bob Watson...
---
Songliste:

Main Title
Over The Rainbow
Cyclone (Extended Version)
Come Out, Come Out...
It Really Was No Miracle
We Thank You Very Sweetly
Ding-Dong! The Witch Is Dead
As Mayor Of The Munchkin City
As Coroner, I Must Aver
Ding-Dong! The Witch Is Dead (Reprise)
The Lullaby League
The Lollipop Guild
We Welcome You To Munchkinland
Follow The Yellow Brick Road / You're Off To See TheWizard
If I Only Had A Brain (Extended Version)
We're Off To See The Wizard (Duo)
If I Only Had A Heart (Extended Version)
We're Off To See The Wizard (Trio)
If I Only Had The Nerve
We're Off To See The Wizard (Quartet)
Optimistic Voices
The Merry Old Land Of Oz
If I Were King Of The Forest (Extended Version)
The Jitterbug (Outtake)
Ding-Dong! Emerald City (Outtake)
Delirious Escape (Extended Version) / Delirious Escape Continued / End Title
---
Sie kennen diesen Artikel?
Sagen Sie uns Ihre Meinung darüber und geben Sie hier Ihre Bewertung ab. Sie helfen dadurch anderen Kunden.