Der Shop für Musical-Fans und Professionals.
Wir versenden Gänsehaut-Feeling in die ganze Welt.
COWGIRLS (1996 Orig. Off-Broadway Cast) - CD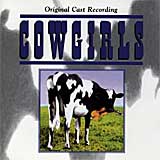 Kundenbewertung: -
Kategorie: Cast Recording, Musical CD
Sprache:

englisch
UPC/EAN: 4005939574024
Musik & Text: Mary Murfitt
Künstler:
Rhonda Coullet, Mary Ehlinger, Lori Fischer, Mary Murfitt, Betsy Howie, Jackie Sanders...
---
Songliste:

Overture
Three Little Maids
Jesse's Lullaby
Ode to Connie Carlson
Sigma, Alpha, Lota
Ode to Jo
From Chopin To Country
Kingdom Of Country
Songs My Mama Sang
Heads Or Tails
Love's Sorrow
Looking For A Miracle
Don't Call Me Trailer Trash
Honky Tonk Girl
Every Saturday Night
Don't Look Down
They're All Cowgirls To Me
Saddle Tromp Blues
It's Time To Come Home
We're A Travelin' Trio
Sunflower
Concert Medley
House Rules
Cowgirls
---
Sie kennen diesen Artikel?
Sagen Sie uns Ihre Meinung darüber und geben Sie hier Ihre Bewertung ab. Sie helfen dadurch anderen Kunden.