Der Shop für Musical-Fans und Professionals.
Wir versenden Gänsehaut-Feeling in die ganze Welt.
STEP INTO THE LIMELIGHT (1962 World Premiere Recording) - CD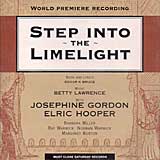 Kundenbewertung: -
Kategorie: Cast Recording, Musical CD
Sprache:

englisch
UPC/EAN: 5026107034804
Musik: Betty Lawrence
Text: Edgar K. Bruce
Buch: Edgar K. Bruce
Künstler:
Josephine Gordon, Elric Hooper, Barbara Miller, Ray Warwick, Norman Warwick, Margaret Burton
---
Songliste:

Step into the Limelight
A new life
Versatility
Court dance / The lovers of Verona
Lucia
The infant phenomenon
Sensation
Tarantella
Ninetta
Fame
Two saucy sailors
La Vivandiere
Why?
Be subtle
My sad heart
As long as I am dancing
A little god called Cupid
Let us waltz

Bonus Tracks:
Step into the limelight
A new life
The lovers of Verona
The infant phenomenon
What am I searching for?
La Vivandiere
Why?
A little god called Cupid
Let us waltz
Fame (Reprise)
---
Sie kennen diesen Artikel?
Sagen Sie uns Ihre Meinung darüber und geben Sie hier Ihre Bewertung ab. Sie helfen dadurch anderen Kunden.