Der Shop für Musical-Fans und Professionals.
Wir versenden Gänsehaut-Feeling in die ganze Welt.
BELLE (1961 Orig. London Cast) - CD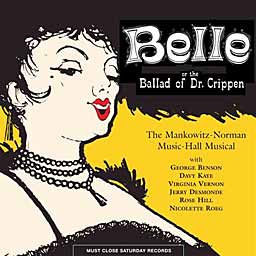 Kundenbewertung: -
Kategorie: Cast Recording, Musical CD
Sprache:

englisch
UPC/EAN: 5026107034767
BELLE or the Ballad of Dr. Crippen
Musik & Text: Monty Norman
Buch: Wolf Mankowitz
Künstler:
George Benson, Davy Kaye, Virginia Vernon, Jerry Desmonde, Rose Hill, Nicolette Roeg
---
Songliste: (Spieldauer: 48:32)

The Ballad of Dr Crippen
Fifty years ago
Mr Lasherwood and Mighty Mick
Bird of paradise
Meet me at the Strand
You are mine
Colonies
The Devil's Bandsman
Pills, pills, pills
Ain't it a shame
Song of our future
Belle
Lovely London
The bravest of men
A pint of wallop
Fairy godmother
Waltzing with you
I can't stop singing
Coldwater, Michigan
Don't ever leave me
Policeman's song
The dit-dit song
The Minstrel show
You can''t beat a British crime
---
Sie kennen diesen Artikel?
Sagen Sie uns Ihre Meinung darüber und geben Sie hier Ihre Bewertung ab. Sie helfen dadurch anderen Kunden.