Der Shop für Musical-Fans und Professionals.
Wir versenden Gänsehaut-Feeling in die ganze Welt.
ON THE TOWN (1995 Studio Cast) Compl. - 2CD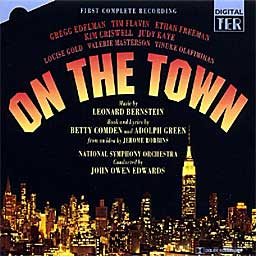 Kundenbewertung:

Kategorie: Cast Recording, Musical CD
Sprache:

englisch
UPC/EAN: 5015062121728
Digital Surround Recording
Musik: Leonard Bernstein
Text: Betty Comden, Adolph Green
Künstler:
Gregg Edelman, Tim Flavin, Ethan Freeman, Kim Criswell, Judy Kaye, Valerie Masterson...
---
Songliste: (Spieldauer: 51:12, 39:02)

Overture
Opening / New York! New York!
Miss Turnstiles
Come Up To My Place
Carried Away
Lonely Town
High School Girls (Lonely Town Pas de deux)
Lonely Town (Choral)
Carnegie Hall Pavane
I Can Cook Too
Lucky To Be Me
Times Square / Finale Act 1
CD2:
Entr'acte
So Long Baby
I Wish I Was Dead (Night Club Sequence)
Ya Got Me
Slam Bang blues
Pitkin's Song
Subway Ride / Imaginary Coney Island
The Great Lover Displays Himself (Pas de deux)
Some Other Time
The Real Coney Island
Finale Act 2
Exit Music

Bonus Track:
Gabey's Coming
---
Sie kennen diesen Artikel?
Sagen Sie uns Ihre Meinung darüber und geben Sie hier Ihre Bewertung ab. Sie helfen dadurch anderen Kunden.
So denken andere über diesen Artikel:





(07.05.2006) Musicalfan aus Berlin schreibt:
Hier fehlt eindeutig der Hinweis, dass ein herausragender Ethan Freeman in dieser Cast-Aufnahme brilliert! Nicht nur für seine Fans ein klares MUST HAVE.