Der Shop für Musical-Fans und Professionals.
Wir versenden Gänsehaut-Feeling in die ganze Welt.
OLYMPUS ON MY MIND (1987 American Cast Rec.) - CD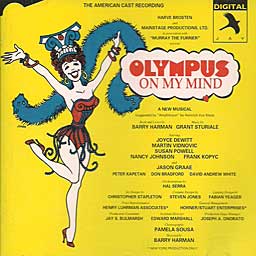 Kundenbewertung: -
Kategorie: Cast Recording, Musical CD
Sprache:

englisch
UPC/EAN: 605288123825
DDD - A New Musical
Musik: Grant Sturiale
Text: Barry Harman
---
Songliste: (Spieldauer: 46:36)

Overture
Welcome To Greece
Heaven On Earth
The Gods On Tap
Surprise!
Love - What A Concept
Wait 'Til It Dawns
Enter The Husband
I Know My Wife
It Was Me
Back So Soon
Wonderful
At Liberty In Thebes
It Must Have Been Jove
Jupiter Slept Here
Something Of Yourself
Olympus Is A Lonely Town
A Star Is Born
Mine Eyes Have Seen
Heaven On Earth (Reprise)
---
Sie kennen diesen Artikel?
Sagen Sie uns Ihre Meinung darüber und geben Sie hier Ihre Bewertung ab. Sie helfen dadurch anderen Kunden.