Der Shop für Musical-Fans und Professionals.
Wir versenden Gänsehaut-Feeling in die ganze Welt.
BLITZ (1963 Orig. Soundtrack) - CD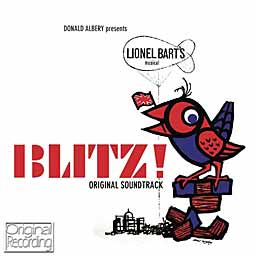 Kundenbewertung: -
Kategorie: Cast Recording, Musical CD
Sprache:

englisch
UPC/EAN: 5050457135720
Label: Hallmark
Musik & Text: Lionel Bart
---
Songliste:

Our Hotel
Tell Him - Tell Her!
I Want To Whisper Something
The Day After Tomorrow
We're Going To The Country
Another Morning
Who's This Geezer Hitler?
Be What You Wanna Be
Opposites
The Day After Tomorrow (Reprise)
Entr'acte
Far Away
Petticoat Lane (On A Saturday Ain't So Nice)
Down The Lane
So Tell Me
Mums And Dads
Who Wants To Settle Down?
Is This Gonna Be A Wedding?
Duty Calls!
Who's This Geezer Hitler? (Reprise)
---
Sie kennen diesen Artikel?
Sagen Sie uns Ihre Meinung darüber und geben Sie hier Ihre Bewertung ab. Sie helfen dadurch anderen Kunden.