Der Shop für Musical-Fans und Professionals.
Wir versenden Gänsehaut-Feeling in die ganze Welt.
BRAIN FROM PLANET X (2007 Orig. Cast Recording) - CD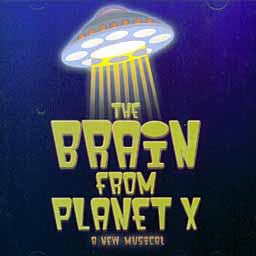 Kundenbewertung: -
Kategorie: Cast Recording, Musical CD
Sprache:

englisch
UPC/EAN: 852752001114
A New Musical Comedy
Musik & Text: Bruce Kimmel
Künstler:
Egbert Bernard, Kevin Spirtas, Lauren Rubin, Merrill Grant, Grady Williams, Cason Murphy, Benjamin Clark...
---
Songliste:

Introduction
The Brain From Planet X
Here On Earth
Strange Occurance / Newspaper Headlines
Good Girl / Bad Girls
The Plan
The World Of Tomorrow
The Global News
The Plan (Reprise)
Things Are Gonna Be Changing Around Here
Saucers On The Sky
Now!
Entr'acte
The Brain From Planet X (Reprise)
The Brain Tap
I Need An Earthman
The Will-Bent News
Who Would Have Thought?
The Brain's Song
Independence Day
All About Men
Finale / Independence Day (Reprise)
The Brain From Planet X (Reprise)
---
Sie kennen diesen Artikel?
Sagen Sie uns Ihre Meinung darüber und geben Sie hier Ihre Bewertung ab. Sie helfen dadurch anderen Kunden.