Der Shop für Musical-Fans und Professionals.
Wir versenden Gänsehaut-Feeling in die ganze Welt.
MAKE ME A SONG (2008 Off-Broadway Cast) - 2CD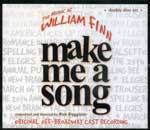 Kundenbewertung: -
Kategorie: Cast Recording, Musical CD
Sprache:

englisch
UPC/EAN: 791558442724
The Music of William Finn
Musik & Text: William Finn
---
Songliste:
CD1:
Mister Make Me A Song
Heart And Music
Hitchhiking Across America
Republicans Part One
Billy's Law-of-Genetics
Passover
Only One
Republicans Part Two
I'd Rather Be Sailing / Set Those Sails
Change
I Have Found
Republicans Part Three
You're Even Better Than You Think You Are

The FALSETTOS Suite
Falsettoland
Four Jews In A Room Bitching
Tight Knit Family / Love Is Blind / My Father's A Homo
Trina's Song
March Of The Falsettos
Year Of The Child / The Baseball Game
Unlikely Lovers
CD2:
All Fall Down
Republicans Part Four
Stupid Things I Won't Do
That's Enough For Me
I Went Fishing With My Dad
When The Earth Stopped Turning
Anytime (I Am There)
Song Of Innocence And Experience
Finale
Make Me A Song (Vadim Feichtner & William Finn)
---
Sie kennen diesen Artikel?
Sagen Sie uns Ihre Meinung darüber und geben Sie hier Ihre Bewertung ab. Sie helfen dadurch anderen Kunden.