Der Shop für Musical-Fans und Professionals.
Wir versenden Gänsehaut-Feeling in die ganze Welt.
CHESS (2009 Concert Cast) - 2CD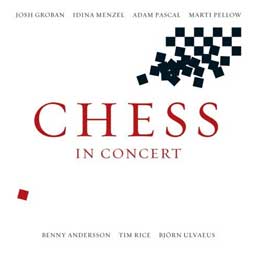 Kundenbewertung: -
Kategorie: Cast Recording, Musical CD
Sprache:

englisch
UPC/EAN: 093624979814
CHESS In Concert
Musik: Benny Andersson, Björn Ulvaeus
Text: Tim Rice
Künstler:
Josh Groban, Idina Menzel, Adam Pascal, Marti Pellow...
---
Songliste:
CD1:
Prologue
Story of Chess
Merano / What a Scene! - What a Joy!
Commie Newspapers
Press Conference
Molokov and Anatoly
Where I Want to Be
Difficult and Dangerous Times
Arbiter
Hymn to Chess
Merchandisers
Global TV Fanfare
Chess Game #1
Arbiter (Reprise)
Quartet (A Model of Decorum and Tranquility)
Florence and Molokov
Budapest Is Rising
Nobody's Side
Mountain Duet
Chess Game #2
Florence Quits
Pity the Child #1
Embassy Lament
Heaven Help My Heart
Anatoly and the Press
Anthem
CD2:
Golden Bangkok
One Night in Bangkok
One More Opponent
You and I
Soviet Machine
Interview
Someone Else's Story
Deal (No Deal)
Pity the Child #2
I Know Him So Well
Talking Chess
Endgame #1
Endgame #2
Endgame #3 / Chess Game #3
You and I (Reprise)
Walter and Florence
Anthem (Reprise)
---
Sie kennen diesen Artikel?
Sagen Sie uns Ihre Meinung darüber und geben Sie hier Ihre Bewertung ab. Sie helfen dadurch anderen Kunden.