Der Shop für Musical-Fans und Professionals.
Wir versenden Gänsehaut-Feeling in die ganze Welt.
DOGFIGHT (2013 Orig. Cast Recording) - CD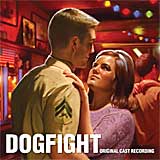 Kundenbewertung: -
Kategorie: Cast Recording, Musical CD
Sprache:

englisch
UPC/EAN: 791558447026
Label: Ghostlight
Off-Broadway Cast Recording
Musik & Text: Benj Pasek, Justin Paul
Künstler:
Annaleigh Ashford, Becca Ayers, Nick Blaemire, Steven Booth, Dierdre Friel, Adam Halpin, F. Michael Haynie, Derek Klena...
---
Songliste:

Prelude: Take Me Back
Some Kinda Time
Hey, Good-Lookin'
Come To A Party
Nothing Short Of Wonderful
Come To A Party (Reprise)
That Face
Dogfight
Pretty Funny
Hometown Hero's Ticker Tape Parade
First Date/Last Night
Before It's Over
Give Way
Some Kinda Time (Reprise)
Come Back
Finale: Take Me Back
---
Sie kennen diesen Artikel?
Sagen Sie uns Ihre Meinung darüber und geben Sie hier Ihre Bewertung ab. Sie helfen dadurch anderen Kunden.