Der Shop für Musical-Fans und Professionals.
Wir versenden Gänsehaut-Feeling in die ganze Welt.
GIANT (2013 Orig. Cast Recording) - CD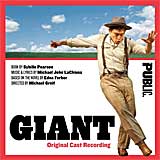 Kundenbewertung: -
Kategorie: Cast Recording, Musical CD
Sprache:

englisch
UPC/EAN: 791558447125
Label: Ghostlight
Musik & Text: Michael John LaChiusa
Buch: Sybille Pearson
---
Songliste:

Aurelia Dolores
Did Spring Come To Texas?
Your Texas
No Time For Surprises
Private Property
Outside Your Window
He Wanted A Girl
Heartbreak Country
Ruega por Nosotros
Look Back / Look Ahead
Topsy Turvy
When To Bluff
One Day
My Texas
A Stranger
Act One Finale
Our Mornings / That Thing
Jump
There Is A Child
Un Béso, Béso!
Place In The World
Midnight Blues
The Dog Is Gonna Bark
Juana's Prayer
The Desert
Aurelia Dolores Reprise / Act Two Finale
---
Sie kennen diesen Artikel?
Sagen Sie uns Ihre Meinung darüber und geben Sie hier Ihre Bewertung ab. Sie helfen dadurch anderen Kunden.