Der Shop für Musical-Fans und Professionals.
Wir versenden Gänsehaut-Feeling in die ganze Welt.
CINDERELLA (2013 Orig. Broadway Cast) - CD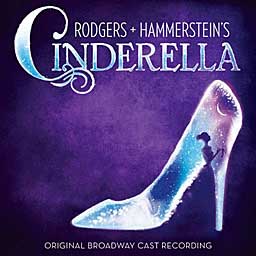 Kundenbewertung: -
Kategorie: Cast Recording, Musical CD
Sprache:

englisch
UPC/EAN: 791558447224
Label: Ghostlight
Original Broadway Cast Recording
Musik: Richard Rodgers
Text: Oscar Hammerstein II
Künstler:
Laura Osnes, Santino Fontana, Peter Bartlett, Ann Harada, Greg Hildreth, Marla Mindelle, Harriet Harris, Victoria Clark...
---
Songliste:

(ACT I) Overture
Prologue
Me,Who Am I?
In My Own Little Corner
The Prince Is Giving A Ball / Now Is The Time
In My Own Little Corner (Reprise)
Impossible
Transformations
It's Possible
Ten Minutes Ago
Cinderella Waltz
Ten Minutes Ago (Reprise)
(ACT II) Stepsister's Lament
The Pursuit
He Was Tall
When You're Driving Through the Moonlight
A Lovely Night
A Lovely Night (Reprise)
Loneliness of Evening
Announcing The Banquet
There's Music In You
Do I Love You Because You're Beautiful?
The Shoe Fits
The Proposal
The Wedding: There's Music In You
Exit music: Cinderella March
---
Sie kennen diesen Artikel?
Sagen Sie uns Ihre Meinung darüber und geben Sie hier Ihre Bewertung ab. Sie helfen dadurch anderen Kunden.
Unsere Kundenbewertungen werden ausschließlich über unser Kundenbewertungsformular generiert und repräsentieren nur die persönliche Meinung unserer Kunden bzw. der User unseres Shops. Einträge werden vor Veröffentlichung von unserer Redaktion geprüft und unabhängig ihrer Wertung veröffentlicht. Ob der User der Bewertung das Produkt wirklich gekauft hat, oder im Besitz davon ist, kann nicht in jedem Fall geprüft werden. Es gibt bei uns weder gekaufte noch in Auftrag gegebene Kundenbewertungen.