Der Shop für Musical-Fans und Professionals.
Wir versenden Gänsehaut-Feeling in die ganze Welt.
ONCE (2012 Orig. Broadway Cast) - CD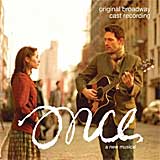 Kundenbewertung: -
Kategorie: Cast Recording, Musical CD
Sprache:

englisch
UPC/EAN: 886919482423
A New Musical
Musik & Text: Glen Hansard, Marketa Irglova
Buch: Enda Walsh
Künstler:
David Abeles, Will Connolly, Steve Kazee, David Patrick Kelly, Cristin Milioti, Anne L. Nathan, Andy Taylor
---
Songliste:

The North Strand
Leave
Falling Slowly
The Moon
Ej Pada Pada Rosicka
If You Want Me
Broken Hearted Hoover Fixer Sucker Guy
Say It To Me Now
Abandoned In Bandon
Gold
Sleeping
When Your Mind's Made Up
The Hill
It Cannot Be About That
Gold (A Cappella)
Falling Slowly (Reprise)
---
Sie kennen diesen Artikel?
Sagen Sie uns Ihre Meinung darüber und geben Sie hier Ihre Bewertung ab. Sie helfen dadurch anderen Kunden.