Der Shop für Musical-Fans und Professionals.
TOM SAWYER (2013 San Francisco Ballet) - 2CD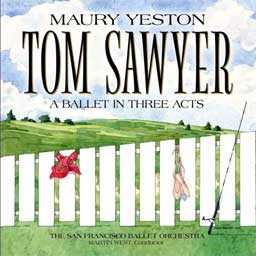 Kundenbewertung: -
Kategorie: Cast Recording, Musical CD
Sprache:

deutsch,

englisch
UPC/EAN: 803607131623
A Ballet in Three Acts
Musik: Maury Yeston
Künstler:
San Francisco Ballet Orchestra
---
Songliste:
CD1:
Overturette, The Fence
Way Down South
Tom And The Town
Lazy Day
Off To School
In The Classroom
Tom And Becky
Huck Finn
Looking West
Games And Competitions
To The Mississippi
Pirates
Storm
Funeral And Salvation, Coda

CD2:
Muff Potter - Duet for Man and Flask
A Conspiracy
Dance Of The Fireflies
March Of The Goblins
Ghosts
The Sprites' Circus
The Stone Angel
A Murder
A Death
Requiem For Doc
Overture to Act 3, Looking West
The Missouri Main Street Parade
The Prosecution
Tom's Testimony
Praise And Thanks
Pinwheels
The Picnic
Lost In The Cave
Dance Of True Love
Pinwheels (Reprise)
Saved
To The Mississippi (Reprise)
The Great Mississippi
---
Sie kennen diesen Artikel?
Sagen Sie uns Ihre Meinung darüber und geben Sie hier Ihre Bewertung ab. Sie helfen dadurch anderen Kunden.
Unsere Kundenbewertungen werden ausschließlich über unser Kundenbewertungsformular generiert und repräsentieren nur die persönliche Meinung unserer Kunden bzw. der User unseres Shops. Einträge werden vor Veröffentlichung von unserer Redaktion geprüft und unabhängig ihrer Wertung veröffentlicht. Ob der User der Bewertung das Produkt wirklich gekauft hat, oder im Besitz davon ist, kann nicht in jedem Fall geprüft werden. Es gibt bei uns weder gekaufte noch in Auftrag gegebene Kundenbewertungen.