Der Shop für Musical-Fans und Professionals.
Wir versenden Gänsehaut-Feeling in die ganze Welt.
YANK! (2014 Orig. Off-Broadway Cast) - CD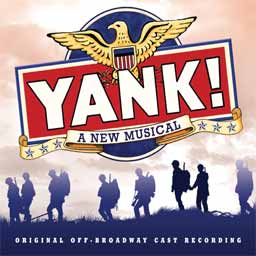 Kundenbewertung: -
Kategorie: Cast Recording, Musical CD
Sprache:

englisch
UPC/EAN: 0803607142025
Label: PS Classics
Unser Preis:
18,50 €
inkl. MWSt zzgl. Versandkosten

A New Musical
Musik: Joseph Zellnik
Text: David Zellnik
Buch: David Zellnik
Künstler:
Bobby Steggert, Ivan Hernandez, Nancy Anderson, Jeffry Denman, Zak Edwards ...
---
Songliste:

Opening Speech
Rememb'ring You
Yank
Polishing Shoes
The Saddest Gal What Am
Betty
Click
Get It, Got It, Good
Rememb'ring You / Letters
Blue Twilight
You, You
Yank (Reprise)
A Couple Of Regular Guys
Your Squad Is Your Squad
Light On Your Feet
Just True
My Soldier
A Couple Of Regular Guys (Reprise)
Final Speech / Rememb'ring You (Reprise)
---
Sie kennen diesen Artikel?
Sagen Sie uns Ihre Meinung darüber und geben Sie hier Ihre Bewertung ab. Sie helfen dadurch anderen Kunden.