Der Shop für Musical-Fans und Professionals.
Wir versenden Gänsehaut-Feeling in die ganze Welt.
MURDER FOR TWO (2014 Orig. Cast Recording) - CD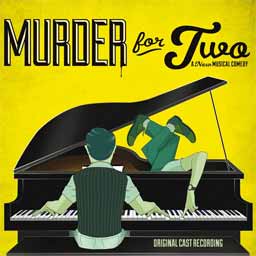 Kundenbewertung: -
Kategorie: Cast Recording, Musical CD
Sprache:

englisch
UPC/EAN: 0791558448122
Label: Ghostlight
A New Musical Comedy
Musik: Joe Kinosia
Text: Kellen Blair
Buch: Kellen Blair, Joe Kinosian
Künstler:
Jeff Blumenkrantz, Brett Ryback
---
Songliste:

Prelude
Waiting In The Dark
Protocol Says
Dahlia Whitney
A Perfectly Lovely Surprise
Murray & Barb Flandon
It Was Her
Timmy, Yonkers & Skid
A Lot Woise
Steph Whitney
He Needs A Partner
Barrette Lewis
So What If I Did?
A Friend Like You
Henry Vivaldi
Process Of Elimination
Steppin' Out Of The Shadows
Finale (I Need A Partner / Protocol Says)
Finale Ultimo (A Friend Like You)
---
Sie kennen diesen Artikel?
Sagen Sie uns Ihre Meinung darüber und geben Sie hier Ihre Bewertung ab. Sie helfen dadurch anderen Kunden.