Der Shop für Musical-Fans und Professionals.
Wir versenden Gänsehaut-Feeling in die ganze Welt.
CHESS (2014 Remastered Studio Cast) & Bonus-DVD - 2CD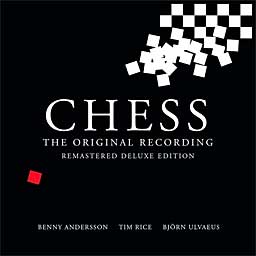 Kundenbewertung: -
Kategorie: Cast Recording, Musical CD
Sprache:

englisch
UPC/EAN: 602547018335

zur Zeit nicht lieferbar
The Original 1984 Recording - Remastered Deluxe Edition
Musik: Benny Andersson, Björn Ulvaeus
Text: Tim Rice
Künstler:
Murray Head, Elaine Paige, Barbara Dickson, Denis Quilley, Tommy Körberg, Björn Skifs
---
Songliste:

CD1:
Merano
The Russian And Molokov / Where I Want To Be
The Opening Ceremony
Quartet (A Model of Decorum and Tranquillity)
The American And Florence / Nobody's Side
Chess
Mountain Duet
Florence Quits
Embassy Lament
Anthem
CD2:
Bangkok / One Night In Bangkok
Heaven Help My Heart
Argument
I Know Him So Well
The Deal (No Deal)
Pity The Child
Endgame
Epilogue: You And I / The Story Of Chess

Bonus-Tracks:
Press Conference
Intro Mountain Duet (Der kleine Franz)
Anthem (instrumental version)
Bonus-DVD:
Documentary - Magasinet Special: Chess 1984

PROMO VIDEOS:
One Night In Bangkok
Nobody's side
The Arbiter
I Know Him So Well
Pity The Child
---
Sie kennen diesen Artikel?
Sagen Sie uns Ihre Meinung darüber und geben Sie hier Ihre Bewertung ab. Sie helfen dadurch anderen Kunden.
Unsere Kundenbewertungen werden ausschließlich über unser Kundenbewertungsformular generiert und repräsentieren nur die persönliche Meinung unserer Kunden bzw. der User unseres Shops. Einträge werden vor Veröffentlichung von unserer Redaktion geprüft und unabhängig ihrer Wertung veröffentlicht. Ob der User der Bewertung das Produkt wirklich gekauft hat, oder im Besitz davon ist, kann nicht in jedem Fall geprüft werden. Es gibt bei uns weder gekaufte noch in Auftrag gegebene Kundenbewertungen.