Der Shop für Musical-Fans und Professionals.
Wir versenden Gänsehaut-Feeling in die ganze Welt.
CHESS (2014 Remastered Studio Cast) & Bonus-DVD - 2CD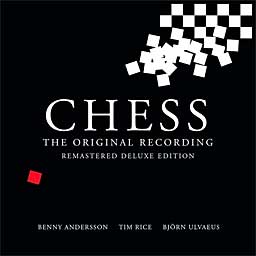 Kundenbewertung: -
Kategorie: Cast Recording, Musical CD
Sprache:

englisch
UPC/EAN: 602547018335

zur Zeit nicht lieferbar
The Original 1984 Recording - Remastered Deluxe Edition
Musik: Benny Andersson, Björn Ulvaeus
Text: Tim Rice
Künstler:
Murray Head, Elaine Paige, Barbara Dickson, Denis Quilley, Tommy Körberg, Björn Skifs
---
Songliste:

CD1:
Merano
The Russian And Molokov / Where I Want To Be
The Opening Ceremony
Quartet (A Model of Decorum and Tranquillity)
The American And Florence / Nobody's Side
Chess
Mountain Duet
Florence Quits
Embassy Lament
Anthem
CD2:
Bangkok / One Night In Bangkok
Heaven Help My Heart
Argument
I Know Him So Well
The Deal (No Deal)
Pity The Child
Endgame
Epilogue: You And I / The Story Of Chess

Bonus-Tracks:
Press Conference
Intro Mountain Duet (Der kleine Franz)
Anthem (instrumental version)
Bonus-DVD:
Documentary - Magasinet Special: Chess 1984

PROMO VIDEOS:
One Night In Bangkok
Nobody's side
The Arbiter
I Know Him So Well
Pity The Child
---
Sie kennen diesen Artikel?
Sagen Sie uns Ihre Meinung darüber und geben Sie hier Ihre Bewertung ab. Sie helfen dadurch anderen Kunden.