Der Shop für Musical-Fans und Professionals.
Wir versenden Gänsehaut-Feeling in die ganze Welt.
THE LAST SHIP (2014 Orig. Broadway Cast) - CD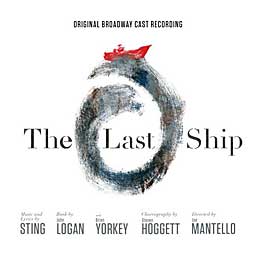 Kundenbewertung: -
Kategorie: Cast Recording, Musical CD
Sprache:

englisch
UPC/EAN: 0602547139955
Original Broadway Cast Recording
Musik & Text: Sting
Buch: John Logan, Brian Yorkey
Künstler:
Michael Esper, Rachel Tucker, Jimmy Nail, Fred Applegate, Aaron Lazar, Sally Ann-Triplett, Collin Kelly-Sordelet
---
Songliste:

Island Of Souls
All This Time
August Winds
Shipyard
If You Ever See Me Talking To A Sailor
Dead Man's Boots
The Last Ship (Part One)
Sail Away
The Last Ship (Part Two)
What Say You Meg?
We've Got Now't Else
When We Dance
The Night The Pugilist Learned How To Dance
So To Speak
Show Some Respect
It's Not The Same Moon
Underground River
Ghost Story
The Last Ship (Finale)

Bonus Track:
What Say You Meg?
---
Sie kennen diesen Artikel?
Sagen Sie uns Ihre Meinung darüber und geben Sie hier Ihre Bewertung ab. Sie helfen dadurch anderen Kunden.