Der Shop für Musical-Fans und Professionals.
Wir versenden Gänsehaut-Feeling in die ganze Welt.
LAZARUS (2016 Orig. Cast Recording) - 2CD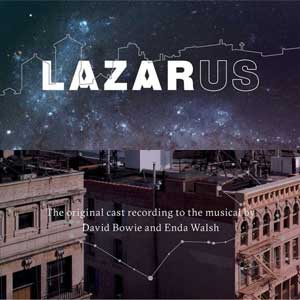 Kundenbewertung: -
Kategorie: Cast Recording, Musical CD
Sprache:

englisch
UPC/EAN: 0889853749126
Musik & Text: David Bowie
Buch: Enda Walsh
Künstler:
Michael C. Hall, Sophia Anna Caruso, Cristin Miloti, Michael Esper, Lynn Craig, Charlie Pollack, Nicholas Christopher, Krystina Alabama
---
Songliste:

CD1:
Hello Mary Lou (Goodbye Heart)
Lazarus
It's No Game
This Is Not America
The Man Who Sold The World
No Plan
Love Is Lost
Changes
Where Are We Now
Absolute Beginners
Dirty Boys
Killing A Little Time
Life On Mars
All The Young Dudes
Sound And Vision
Always Crashing In The Same Car
Valentine's Day
When I Met You
Heroes
CD2:
Lazarus – David Bowie
No Plan – David Bowie
Killing A Little Time – David Bowie
When I Met You – David Bowie
---
Sie kennen diesen Artikel?
Sagen Sie uns Ihre Meinung darüber und geben Sie hier Ihre Bewertung ab. Sie helfen dadurch anderen Kunden.