Der Shop für Musical-Fans und Professionals.
Wir versenden Gänsehaut-Feeling in die ganze Welt.
The Big Book of Audition Songs: Female (inkl. 2CDs)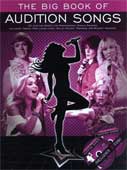 Kundenbewertung: -
Kategorie: Playbacks mit Notenmaterial
UPC/EAN: 9781847728098
Seiten: 152
25 Audition Songs for Professional Female Singers
---
Songliste:
CD1:
Alone (Heart)
Bleeding Love (Leona Lewis)
Chasing Pavements (Adele)
Cornflake Girl (Tori Amos)
Dance Me To The End Of Love (Madeleine Peyroux)
Don't Make Me Over (Dionne Warwick)
Everytime (Britney Spears)
Goldfinger (Shirley Bassey)
Holding Out For A Hero (Bonnie Tyler)
Hurt (Christina Aguilera)
I Kissed A Girl (Katy Perry)
I Have A Dream (ABBA, MAMMA MIA)
Live To Tell (Madonna)

CD2:
The Lady Sings The Blues (Billie Holiday, Herbie Nichols)
Mercy (Duffy)
My Favourite Things (Julie Andrews, SOUND OF MUSIC)
Man! I Feel Like A Woman! (Shania Twain)
Run, Baby, Run (Cheryl Crow)
Real Love (Mary Blige)
Run To You (The Bodyguard, Whitney Housten)
Suddenly I See (KT Tunstall)
Survivor (Destiny's Child)
Take That Look Off Your Face (Marti Webb, TELL ME ON A SUNDAY)
Unfaithful (Rihanna)
You Gotta Be (Des'ree)
---
Seiten: 152
gesetzt für: PVG
A unique book and double-CD pack developed for singers auditioning for shows, revues and bands.

The CDs give you full professional 'soundalike' backing tracks, each specially recorded in the most appropriate key.

Songbook arranged for Piano, Voice and Guitar.
---
Sie kennen diesen Artikel?
Sagen Sie uns Ihre Meinung darüber und geben Sie hier Ihre Bewertung ab. Sie helfen dadurch anderen Kunden.
Unsere Kundenbewertungen werden ausschließlich über unser Kundenbewertungsformular generiert und repräsentieren nur die persönliche Meinung unserer Kunden bzw. der User unseres Shops. Einträge werden vor Veröffentlichung von unserer Redaktion geprüft und unabhängig ihrer Wertung veröffentlicht. Ob der User der Bewertung das Produkt wirklich gekauft hat, oder im Besitz davon ist, kann nicht in jedem Fall geprüft werden. Es gibt bei uns weder gekaufte noch in Auftrag gegebene Kundenbewertungen.