Der Shop für Musical-Fans und Professionals.
Pro Vocal: Pop Standards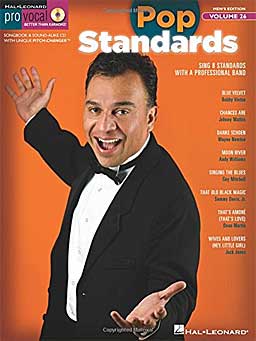 Kundenbewertung: -
Kategorie:
UPC/EAN: 9781423421917
Seiten: 36
Sing 8 Standards with a professional band
---
Songliste:

Blue Velvet (Bobby Vinton)
Chances Are (Johnny Mathis)
Danke Schoen (Wayne Newton)
Moon River (Andy Williams)
Singing The Blues (Guy Mitchell)
That Old Black Magic (Sammy Davis jr.)
That's Amore (That's Love) - (Dean Martin)
Wives And Lovers (Hey, Little Girl) - (Jack Jones)
---
Seiten: 36
gesetzt für: Melody
Whether you're a karaoke singer or preparing for an audition, the Pro Vocal series is for you. The book contains the lyrics, melody, and chord symbols for eight of your favorites. The CD contains demos for listening and separate backing tracks so you can sing along. The CD is playable on any CD player, and it is also enhanced for PC and Mac computer users so you can adjust the recording to any pitch without changing the tempo! Perfect for home rehearsal, parties, auditions, corporate events, and gigs without a backup band.
---
ebenso aus dieser Serie:

Pro Vocal: SOUND OF MUSIC

Pro Vocal: ABBA

HIGH SCHOOL MUSICAL 3

Pro Vocal: Broadway Songs for Male Singers

Pro Vocal: Elvis Presley

Pro Vocal: Broadway Standards - Women's Edition

Pro Vocal: Sing Along Showtunes Female Edition

Pro Vocal: RENT

Pro Vocal: Boublil & Schönberg

Pro Vocal: Sing Along Showtunes Male Edition

Pro Vocal: WICKED

Broadway Songs for Female Singers

Pro Vocal: Broadway Favorites Women's Edition

Pro Vocal: HAIRSPRAY

Hannah Montana

Pro Vocal: Taylor Swift

Pro Vocal: Disney Favorites

Pro Vocal: Movie Songs (female)

Pro Vocal: Queen

Pro Vocal: LES MISERABLES

Great Standards - Men's Edition

Pro Vocal: Neil Diamond

Pro Vocal: Easygoing R&B

Pro Vocal: Timeless Hits

Pro Vocal: Movie Songs (male)

Pro Vocal: Miley Cyrus

Pro Vocal: Amy Winehouse

Pro Vocal: Glee

Pro Vocal: Great Standards Collection (male)

Pro Vocal: Frank Sinatra

Pro Vocal: SOUTH PACIFIC
Sie kennen diesen Artikel?
Sagen Sie uns Ihre Meinung darüber und geben Sie hier Ihre Bewertung ab. Sie helfen dadurch anderen Kunden.
Unsere Kundenbewertungen werden ausschließlich über unser Kundenbewertungsformular generiert und repräsentieren nur die persönliche Meinung unserer Kunden bzw. der User unseres Shops. Einträge werden vor Veröffentlichung von unserer Redaktion geprüft und unabhängig ihrer Wertung veröffentlicht. Ob der User der Bewertung das Produkt wirklich gekauft hat, oder im Besitz davon ist, kann nicht in jedem Fall geprüft werden. Es gibt bei uns weder gekaufte noch in Auftrag gegebene Kundenbewertungen.