Der Shop für Musical-Fans und Professionals.
NINE (DVD Code2) engl.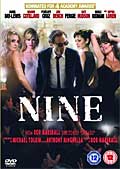 Kundenbewertung: -
Kategorie: DVD
UPC/EAN: 5017239196416
Nominated for 4 Academy Awards
Musik & Text: Maury Yeston
Künstler:
Daniel Day Lewis, Judi Dench, Penelope Cruz, Kate Hudson, Sophia Loren, Fergie, Marion Cotillard...
---
Spieldauer:
113 Min.
Audio:
englisch 5.1, englisch 2.0
Regionalcode:
2
Untertitel:
englisch
Extras:

The Incomparable Daniel Day-Lewis
The Women of Nine
Director Rob Marshall
Behind the Look of Nine
The Dancers of Nine
The Choreography of "Be Italian"
The Choreography of "Cinema Italiano"
The Making of "Cinema Italiano"
Music Videos

Cinema Italiano
Take It All
Unusual Way
---
NINE is a vibrant and provocative musical that follows the life of world famous film director Guido Contini (Daniel Day-Lewis) as he reaches a creative and personal crisis of epic proportion, while balancing the numerous women in his life including his wife (Marion Cotillard), his mistress (Penelope Cruz), his film star muse (Nicole Kidman), his confidant and costume designer (Judi Dench), an American fashion journalist (Kate Hudson), the whore from his youth (Fergie) and his mother (Sophia Loren). The film is directed by Rob Marshall (Chicago).

The original 1982 Broadway production of "Nine," with music and lyrics by Maury Yeston, won five Tony Awards including Best Musical.
---
Sie kennen diesen Artikel?
Sagen Sie uns Ihre Meinung darüber und geben Sie hier Ihre Bewertung ab. Sie helfen dadurch anderen Kunden.
Unsere Kundenbewertungen werden ausschließlich über unser Kundenbewertungsformular generiert und repräsentieren nur die persönliche Meinung unserer Kunden bzw. der User unseres Shops. Einträge werden vor Veröffentlichung von unserer Redaktion geprüft und unabhängig ihrer Wertung veröffentlicht. Ob der User der Bewertung das Produkt wirklich gekauft hat, oder im Besitz davon ist, kann nicht in jedem Fall geprüft werden. Es gibt bei uns weder gekaufte noch in Auftrag gegebene Kundenbewertungen.