Der Shop für Musical-Fans und Professionals.
Wir versenden Gänsehaut-Feeling in die ganze Welt.
NJINGA - THE QUEEN KING (DVD Code0) Return of a Warrior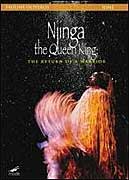 Kundenbewertung: -
Kategorie: DVD
UPC/EAN: 764593022091
A Play with Music and Pageantry
Musik: Pauline Oliveros
Buch: Ione
---
---
A powerful music-theatre work, Njinga merges sumptuous layers of contemporary and traditional song, dance and music to tell the real-life story of an extraordinary 17th century African regent.

Njinga ruled 17th century Ndongo (now Angola) as 'king' because tribal custom forbade her to rule as a woman. A skilled diplomat and fierce warrior, Njinga kept the Portuguese at bay from Ndongo for the 40 years of her rule. Flowing freely between time periods, Njinga traces the diaspora of Njinga's people to Brazil and the United States, linking the ancient warrior's life to that of a contemporary African-American woman who has lost touch with her heritage.

Oliveros' score and use of electronics and spatialisation provides an environment for the traditional African music, heightening the drama.

This live recording is derived from the BAM (Brooklyn Academy of Music) Next Wave Festival performances of 1993.
---
Sie kennen diesen Artikel?
Sagen Sie uns Ihre Meinung darüber und geben Sie hier Ihre Bewertung ab. Sie helfen dadurch anderen Kunden.
Unsere Kundenbewertungen werden ausschließlich über unser Kundenbewertungsformular generiert und repräsentieren nur die persönliche Meinung unserer Kunden bzw. der User unseres Shops. Einträge werden vor Veröffentlichung von unserer Redaktion geprüft und unabhängig ihrer Wertung veröffentlicht. Ob der User der Bewertung das Produkt wirklich gekauft hat, oder im Besitz davon ist, kann nicht in jedem Fall geprüft werden. Es gibt bei uns weder gekaufte noch in Auftrag gegebene Kundenbewertungen.