Der Shop für Musical-Fans und Professionals.
Wir versenden Gänsehaut-Feeling in die ganze Welt.
Leslie Bricusse Songbook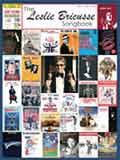 Kundenbewertung: -
Kategorie: Songbuch
UPC/EAN: 9781575609126
ISBN: 1575609126
Seiten: 396
---
Songliste:

A Better Life
A Christmas Carol
A Shot In The Dark
A Wonderful Day Like Today
After Today
Alone
And We Were Lovers
Another Hot Day In Harlem
C-I-N-C-I-N-N-A-T-I
Can You Read My Mind?
Chicago, Illinois
Childhood
Could Anything Be More Beautiful
Crazy World
Feeling Good
Fill The World With Love
Friends To The End
Goldfinger
Gonna Build A Mountain
Hollywood Wives
I Want You
I'll Begin Again
I'm Better With You
If I Ruled The World
Imitate The Sun
In His Eyes
Le Jazz Hot
Life In A Looking Glass
Living In The Shadows
London Is London
Look At That Face
Love Is
My Kind Of Girl
Once In A Lifetime
Open The Door
Out Of Town
Pure Imagination
Somewhere In My Memory
Summertime In Bergerac
Summertime In Rome
Talk To The Animals
Thank You Very Much
Thank You, Santa!
The Candy Man
The Cotton Club
The Eleven O'Clock Song
The Good Old Bad Old Days
The Good Things In Life
The Only Man For Me
The Precious Moments
The Songs Of John And Paul
Think Positive
This Is The Moment
Through The Eyes Of A Child
Tomorrow With Me
Two For The Road
Walk Through The World
We Like The Very Same Things
What About Me?
What Kind Of Fool Am I?
When I Look In Your Eyes
Where Are The Words
Who Can I Tell?
Who Can I Turn To (When Nobody Needs Me)
You And I
You Only Live Twice
---
Seiten: 396
gesetzt für: PVG
Sie kennen diesen Artikel?
Sagen Sie uns Ihre Meinung darüber und geben Sie hier Ihre Bewertung ab. Sie helfen dadurch anderen Kunden.