Der Shop für Musical-Fans und Professionals.
Wir versenden Gänsehaut-Feeling in die ganze Welt.
JESUS CHRIST SUPERSTAR (1994 Studio Cast) Compl. - 2CD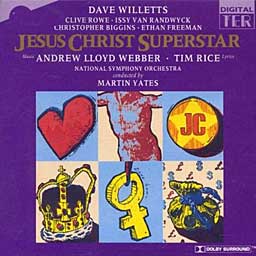 Kundenbewertung: -
Kategorie: Cast Recording, Musical CD
Sprache:

englisch
UPC/EAN: 605288129209
DDD, Digital Surround Recording
Musik: Andrew Lloyd Webber
Text: Tim Rice
Künstler:
Dave Willets, Clive Rowe, Issy van Randwyck, Ethan Freeman, Christopher Biggins, Andrew Newey, Chris Corcoran, Andrew Halliday...
---
Songliste: (Spieldauer: 45:36, 48:16)

First Recording with Orchestral Arrangements
CD1
Overture
Heaven On Their Minds
What's The Buzz?
Strange Thing, Mystifying
Everything's Alright
This Jesus Must Die
Hosanna
Simon Zealotes
Poor Jerusalem
Pilate's Dream
The Temple
Everything's Alright (Reprise)
I Don't Know How To Love Him
Damned For All Time / Blood Money
CD2
The Last Supper
Gethsemane
The Arrest
Peter's Denial
Pilate And Christ
King Herod's Song
Judas's Death
Trial By Pilate (The 39 Lashes)
Superstar
Cruxifiction
John 19:41

Bonus Track:
Could We Start Again, Please?
---
Sie kennen diesen Artikel?
Sagen Sie uns Ihre Meinung darüber und geben Sie hier Ihre Bewertung ab. Sie helfen dadurch anderen Kunden.