Der Shop für Musical-Fans und Professionals.
Wir versenden Gänsehaut-Feeling in die ganze Welt.
YOUNG TOM EDISON (1998 Orig. Cast Recording) - CD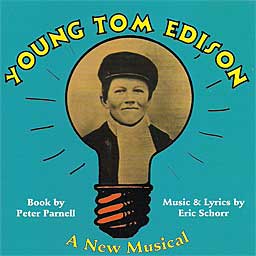 Kundenbewertung: -
Kategorie: Cast Recording, Musical CD
Sprache:

englisch
UPC/EAN: 741117980921
Label: Original Cast
Musik & Text: Eric Schorr
Künstler:
James Bohanek, Lynn Bowman, Kevin Del Aguila, James Judy, Bill Kocis...
---
Songliste: (Spieldauer: 61:30)

Opening
I Have Invented America
I've Got To Know Why
Railworkers Sequence
Going To School
Each Book
Making It Work No. 1
A Tower You Can Climb
Newsboy Sequence / It Feels Great
Making It Work No. 2
Newsworkers Song
It Feels Great (Reprise)
Dialogue
It Feels Great (Reprise)
The Saving Of Little Jimmy
Learning The Telegraph
Telegraphers Song
Making It Work No. 3
Inventing The Duplex
Inventing The Quadruplex
Your Way
Menlo Park, New Jersey / The Reenactment
Finale
Bows
---
Sie kennen diesen Artikel?
Sagen Sie uns Ihre Meinung darüber und geben Sie hier Ihre Bewertung ab. Sie helfen dadurch anderen Kunden.