Der Shop für Musical-Fans und Professionals.
Wir versenden Gänsehaut-Feeling in die ganze Welt.
CATS (1982 Orig. Broadway Cast) Compl. - Deluxe Ed. - 2CD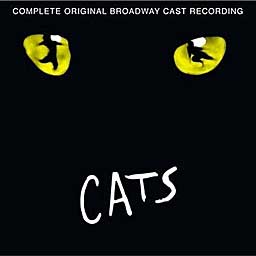 Kundenbewertung: -
Kategorie: Cast Recording, Musical CD
Sprache:

englisch
UPC/EAN: 602498746219
Label: Decca
Deluxe Edition - digitally remastered
Musik: Andrew Lloyd Webber
Text: T.S. Eliot
zus. Texte: Trevor Nunn
Künstler:
Betty Buckley, Terrence Mann, Ken Page, Walter Charles, Harry Groener, Susan Powers, Donna King, Steven Hack, Timothy Scott...
---
Songliste:
CD1:
Overture
Prologue: Jellicle Songs for Jellicle Cats
Naming Of Cats
Invitation To The Jellicle Ball
Old Gumbie Cat
Rum Tum Tugger
Grizabella: The Glamour Cat
Bustopher Jones
Mungojerrie And Rumpelteazer
Old Deuteronomy
Jellicle Ball
Grizabella
CD2:
Moments Of Happiness
Gus: The Theatre Cat
Growltiger's Last Stand / The Ballad of Billy McCaw
Skimbleshanks: The Railway Cat
Macavity: The Mystery Cat
Mr. Mistoffelees
Memory
Journey To The Heaviside Layer
Ad-Dressing of Cats
---
Sie kennen diesen Artikel?
Sagen Sie uns Ihre Meinung darüber und geben Sie hier Ihre Bewertung ab. Sie helfen dadurch anderen Kunden.