Der Shop für Musical-Fans und Professionals.
Wir versenden Gänsehaut-Feeling in die ganze Welt.
CRANKS (1955 Orig. London Cast) - CD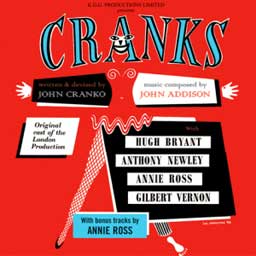 Kundenbewertung: -
Kategorie: Cast Recording, Musical CD
Sprache:

englisch
UPC/EAN: 5055122110842
Label: Sepia
with bonus tracks by Annie Ross
Musik: John Addison
Text: John Cranko
Künstler:
Anthony Newley, Annie Ross, Hugh Bryant, Gilbert Vernon
---
Songliste:

Who's Who / Adrift
Where Has Tom Gone?
Cold Comfort
Passacaglia
Who Is It Always There
Chiromancy
New Blue
Valse Anglaise
Don't Let Him Know You
Sea Song
Telephone Tango
I'm The Boy You Should Say "Yes" To
Metamorphosis
Would You Let Me Know?
Dirge
Arthur, Son Of Martha
Goodnight

Bonus Tracks sung by Annie Ross
Annies Blues
Twisted
Farmer's Market
The Time Was Right
Annie's Lament
The Fish
Mama (He Treats Your Daughter Mean)
Cry Me A River
Only You (And You Alone)
I Want You To Be My Baby
---
Sie kennen diesen Artikel?
Sagen Sie uns Ihre Meinung darüber und geben Sie hier Ihre Bewertung ab. Sie helfen dadurch anderen Kunden.