Der Shop für Musical-Fans und Professionals.
Wir versenden Gänsehaut-Feeling in die ganze Welt.
BLESS THE BRIDE (1947 Orig. London Cast) - CD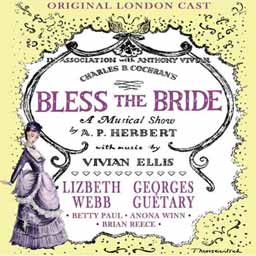 Kundenbewertung: -
Kategorie: Cast Recording, Musical CD
Sprache:

englisch
UPC/EAN: 5055122111245
Unser Preis:
11,99 €
Sonderpreis: 6,99 €
inkl. MWSt zzgl. Versandkosten
Sie sparen 41,70%
(Lieferung nur solange Vorrat reicht!)

A Musical Show
Musik: Vivian Ellis
Text: A. P. Herbert
Künstler:
Lizbeth Webb, Georges Guetary, Betty Paul, Anona Winn, Brian Reece...
---
Songliste:

Selections from BLESS THE BRIDE
Introduction
Croquet, Croquet
Too Good To Be True
Thomas T.
Oh! What Will Mother Say?
I Was Never Kissed Before
Ma Belle Marguerite
Ducky
Bless The Bride / Act One Finale
Bobbing, Bobbing
Mon Pauvre Petit Pierre
The Englishman
This Is My Lovely Day
The Fish
To France
My Big Moment
Here's A Kiss for One-And-Twenty
Finale: This Is My Lovely Day
Grand Finale

Bonus Tracks:
I Was Never Kissed Before
Ma Belle Marguerite (in french)
Table for Two
This Is My Lovely Day
---
Sie kennen diesen Artikel?
Sagen Sie uns Ihre Meinung darüber und geben Sie hier Ihre Bewertung ab. Sie helfen dadurch anderen Kunden.