Der Shop für Musical-Fans und Professionals.
Wir versenden Gänsehaut-Feeling in die ganze Welt.
CHESS (2009 Concert Cast) Highl. - CD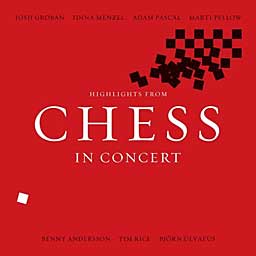 Kundenbewertung: -
Kategorie: Cast Recording, Musical CD
Sprache:

englisch
UPC/EAN: 093624977056
Highlights from CHESS In Concert
Musik: Benny Andersson, Björn Ulvaeus
Text: Tim Rice
Künstler:
Josh Groban, Idina Menzel, Adam Pascal...
---
Songliste:

Story of Chess
Merano
Who Needs a Dream?
Merchandisers
Chess #1
Quartet (A Model of Decorum and Tranquility)
Nobody's on Nobody's Side
Mountain Due
Embassy Lament
Heaven Help My Heart
Anthem
Golden Bangkok
One Night in Bangkok
You and I
Someone Else's Story
Pity the Child
I Know Him So Well
You and I (Reprise)
Anthem (Reprise)
---
Sie kennen diesen Artikel?
Sagen Sie uns Ihre Meinung darüber und geben Sie hier Ihre Bewertung ab. Sie helfen dadurch anderen Kunden.