Der Shop für Musical-Fans und Professionals.
Wir versenden Gänsehaut-Feeling in die ganze Welt.
LOVE NEVER DIES (2010 Orig. Cast Recording) - 2CD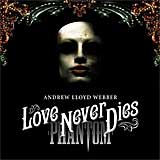 Kundenbewertung: -
Kategorie: Cast Recording, Musical CD
Sprache:

englisch
UPC/EAN: 602527247939
Musik: Andrew Lloyd Webber
Text: Glenn Slater
Buch: Glenn Slater, Ben Elton
---
Songliste:
CD 1:
Prologue
The Coney Island Waltz
That's the place you ruined, you fool
A Little Slice of Heaven
Only For Him / Only For You
The Aerie
'Til I Hear You Sing
Giry Confronts The Phantom / Are you Ready to Begin
Christine Disembarks
Arrival of the Trio / Are You Ready to Begin
What A Dreadful Town
Look With Your Heart
Beneath A Moonless Sky
Once Upon Another Time
Mother, please, I'm scared
Dear Old Friend
Beautiful
The Beauty Underneath
The Phantom confronts Christine

CD 2:
Entr'acte
Why Does She Love Me
Devil Take The Hindmost
A Little Slice of Heaven (Reprise)
Ladies... / The Coney Island Waltz (Reprise)
Bathing Beauty
Mother, did you watch?
Before The Performance
Devil Take The Hindmost (Quartet)
Love Never Dies
Ah, Christine!
Gustave! Gustave!
Please, Miss Giry, I want to go back ...
---
PHANTOM... the story continues.

Ten years after the mysterious disappearance of The Phantom from the Paris Opera House, Christine Daaé accepts an offer to come to America and perform at New York's fabulous new playground of the world - Coney Island. Arriving in New York with her husband Raoul and their son Gustave, Christine soon discovers the identity of the anonymous impresario who has lured her from France to sing. This brand-new show is a roller coaster ride of obsession and intrigue... in which music and memory can play cruel tricks... and The Phantom sets out to prove that, indeed, LOVE NEVER DIES.
---
Sie kennen diesen Artikel?
Sagen Sie uns Ihre Meinung darüber und geben Sie hier Ihre Bewertung ab. Sie helfen dadurch anderen Kunden.
Unsere Kundenbewertungen werden ausschließlich über unser Kundenbewertungsformular generiert und repräsentieren nur die persönliche Meinung unserer Kunden bzw. der User unseres Shops. Einträge werden vor Veröffentlichung von unserer Redaktion geprüft und unabhängig ihrer Wertung veröffentlicht. Ob der User der Bewertung das Produkt wirklich gekauft hat, oder im Besitz davon ist, kann nicht in jedem Fall geprüft werden. Es gibt bei uns weder gekaufte noch in Auftrag gegebene Kundenbewertungen.