Der Shop für Musical-Fans und Professionals.
Wir versenden Gänsehaut-Feeling in die ganze Welt.
LES MISERABLES (2013 Soundtrack) Deluxe - 2CD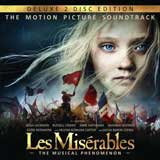 Kundenbewertung: -
Kategorie: Cast Recording, Musical CD
Sprache:

englisch
UPC/EAN: 602537333394

nicht mehr lieferbar
Motion Picture Soundtrack - Limited Deluxe Edition
Musik: Claude Michel Schönberg
Text: Alain Boublil, Herbert Kretzmer
Künstler:
Hugh Jackman, Russell Crowe, Anne Hathaway, Amanda Seyfried, Eddie Redmayne, Helena Bonham Carter, Sacha Baron Cohen
---
Songliste:
CD1:
Look down
The Bishop
Valjean's Soliloquy
At The End Of The Day
The Docks
I Dreamed A Dream
Fantine's Arrest
Who Am I?
Fantine's Death
The Confrontation
Castle On A Cloud
Master Of The House
The Bargain
Suddenly
The Convent
Stars
Paris Look Down
The Robbery
ABC Cafe - Red & Black
In My Life
A Heart Full Of Love
On My Own
One Day More

CD2:
Do You Hear The People Sing
Building The Barricade
Javert At The Barricade
The First Attack
A Little Fall Of Rain
Drink With Me
Bring Him Home
Death Of Gavroche
The Final Battle
The Sewers
Javert's Suicide
Turning
Empty Chairs At Empty Tables
A Heart Full Of Love (Reprise)
Valjean's Confession
Suddenly (Reprise)
The Wedding
Beggars At The Feast
Epilogue
---
Sie kennen diesen Artikel?
Sagen Sie uns Ihre Meinung darüber und geben Sie hier Ihre Bewertung ab. Sie helfen dadurch anderen Kunden.